NeoGen Evo (FDA Approved) Skin Tightening
The New Laser Alternative , the NEOGENTM EVO converts nitrogen gas into plasma energy to treat the whole skin architecture for effective regeneration.
NeoGen™ Evo is more effective than IPL or laser based skin regeneration and anti-aging treatments, and is highly effective for acne treatments. Following your treatment you will see improvements within 6 -8 weeks or so, which will become more dramatic over time and will continue to show results after 1 year.
NeoGen EVO is FDA Cleared and approved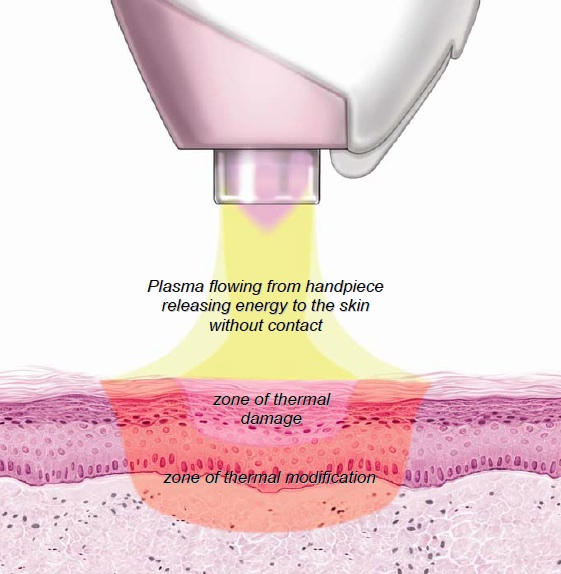 What aesthetic concerns can NeoGen Plasma treat and what are the expected results?
NeoGen Plasma energy helps rejuvenate skin through resurfacing and the stimulation of collagen—think of it as a safer and non-surgical alternative to blepharoplasty or a facelift. Some treatable conditions include sun damage (hyperpigmentation and wrinkles), fine lines, visible pores, active acne, and acne scars. Those who suffer from saggy or loose skin around the eye area or droopy eyelids are also good candidates for the treatment. You can expect to see tighter, smoother, and more youthful‑looking skin, with less-visible fine lines and wrinkles.
NeoGen Nitro-Plasma is a cutting-edge, skin regeneration treatment that uses plasma to deliver heat to a targeted area, without affecting the surrounding tissues. Instant skin glow and firming , Eyelid lift and tightening Pore minimising, Acne solution
A treatment that does it all—shrinks pores, tightens loose and saggy skin, lightens hyperpigmentation, and is suitable for all skin types and tones. The latest in skin resurfacing treatments – NeoGen Plasma.
Watch This Video To Know More
NeoGen Plasma
The NeoGen™ Evo Nitrogen Plasma system converts nitrogen gas into plasma energy, the fourth state of matter. The plasma emerges from the hand piece in controlled pulses and rapid heating of tissue occurs as it gives up its unique thermal energy to tissue.
NeoGen Plasma delivers supreme results with high rate of patient's satisfaction. In this new technology, unique energy will be delivered and it is non-fractionated and not dependent on chromophore for the uptake. This technology has proven and supported by numerous IRB-controlled studies. With this technology, uniform energy absorption and controlled heating will be done, by ensuring consistent treatment of the skin. With the help of high energies skin tightening will be very significant. This treatment won't create an open wound and there will be no epidermal vaporization or charring caused during the time of treatment.
Skin Rejuvenation & Tightening

NeoGen has been proven to improve the effects of
sun damage such as in hyperpigmentation, visible
pores, wrinkles, fine lines as well as stimulates
collagen remodeling, improve contours, tighten
your skin and provides excellent skin smoothness
outcome.
NeoGen™ Plasma for Acne
NeoGen™ Plasma provides dramatic results for acne and acne scars. ACNE
NeoGen is an alternative for laser to treat acne and
improve acne scarring where it delivers energy to
the tissue by plasma energy which derived from
excited nitrogen gas.
Five key benefits of having acne treated with the NeoGen plasma method
Deep dermis healing
One of the main benefits of using this treatment method is that it encourages healing and cell rejuvenation from the super deep dermis layers of the skin, which brings about complete healing and eradication.
Has a strong anti-bacterial effect
The energy which NeoGen plasma produces contains a high sterilizing power which is known as the bactericidal effect which gets rid of any bacteria and prevents their growth. This is what makes this suitable for patients, who have red inflamed acne.
No oral medication
Subduing extra sebum secretion is an essential part of acne treatment. As the plasma treatment method helps in suppressing the secretion of sebum, it substitutes the need for any further oral medication. 
New skin regeneration
With the plasma treatment method, some skin gets peeled off and as skin is substituted from the deep layer, any additional dead skin layers are gotten rid of without any major notice. Plasma treatment leaves this super-strong peeling effect as compared to other peeling treatment methods.
Aids in increasing skin absorption efficiency
After plasma therapy, the skin's rate of absorption tends to increase drastically. This enables the topical medication to work effectively.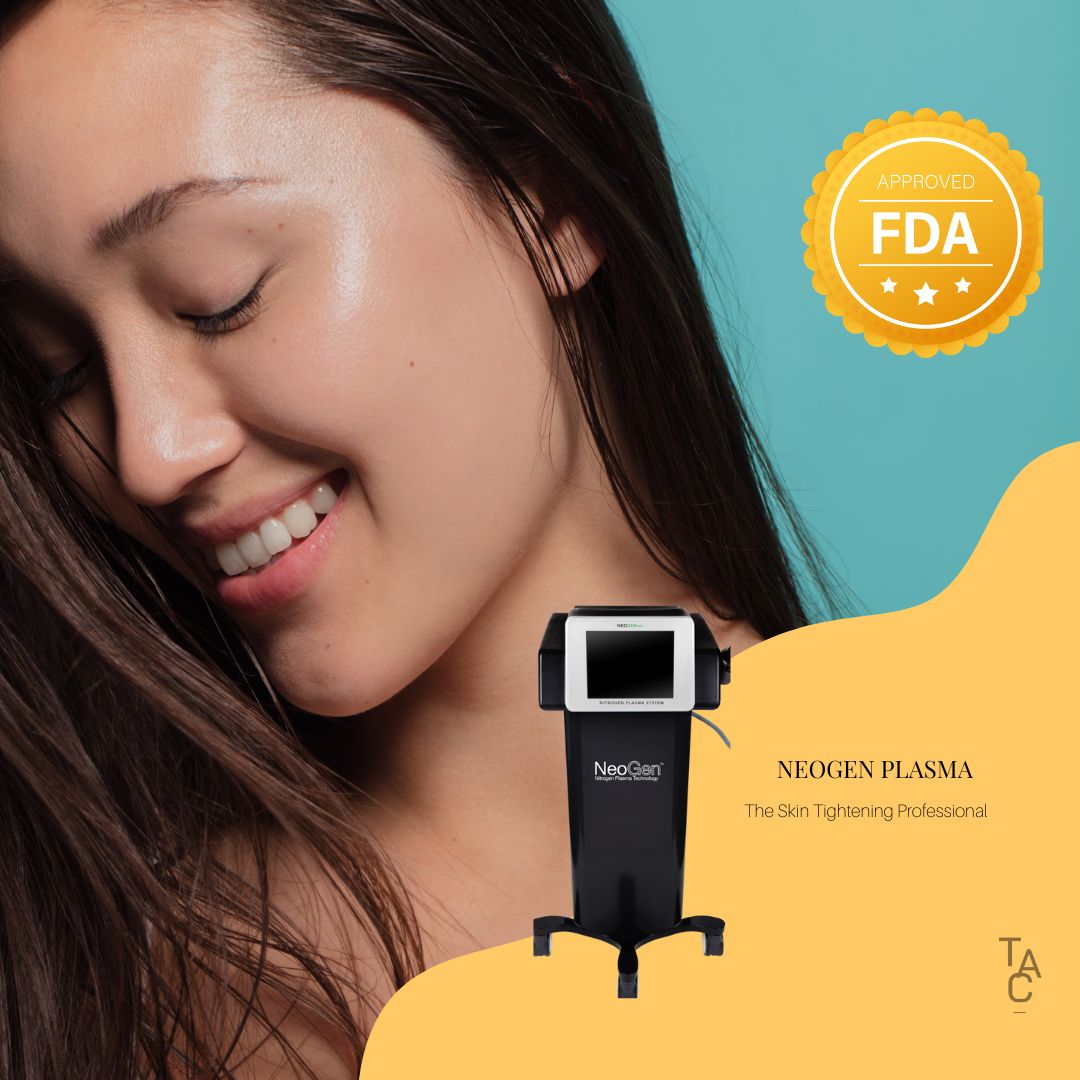 How It Works
Ultra-high radio frequency is used to ionize medical grade nitrogen gas from a pressurised cylinder, creating nitrogen plasma in the nozzle, which delivers a controlled pulse of plasma thermal energy.
The pressurised pulse of nitrogen plasma purges oxygen from the treatment area, preventing charring of the skin. The level of energy delivered to the skin determines the depth of penetration, and associated levels of tightening, resurfacing and regeneration effects.
Make An Appointment / Consultation
It is compulsory for treatment clients to have an extensive consultation first:
Recording all medical history and conditions.

Assess if the treatment is appropriate for you.

Explain the process and what to expect.

Detail pre and post treatment care instructions.

Perform a test patch (this will allow you to feel the treatment on your skin so we can see how you respond).
Because certain health conditions, medications, supplements and lifestyle factors may affect treatment, you will be required to complete a NeoGen™ Evo Consent Form for qualified assessment prior to any treatment.
Following a low energy treatment, you will see improvements in skin texture and tone, and the reduction of fine wrinkles. Following multiple low energy treatments (equivalent to a single high energy treatment) you will see these improvements as well as the reduction of deep wrinkles, acne scars and pigmentation marks. New, healthier, natural collagen growth will improve contours, tighten your skin, and enhance your overall appearance.
Following your treatment you will see improvements within a week or so, which will become more dramatic over time. Clinical studies show a continued improvement for at least one year and as long as two years after treatment. Recovery time is related to the strength of the treatment performed.
In the lead up to your treatment ensure you:
Moisturise the area to be treated twice a day with hydrating cream/lotion

Drink about 2 liters of water a day for two days prior to treatment, for an effective clinical result (the result depends on the degree of skin hydration)

Apply SPF 30 daily for 2-3 weeks and avoid straight sun exposure prior to treatment

Females: Remove hair from the area to be treated one day before treatment
Males: Remove hair from the area to be treated on the morning of the treatment

Do not use make up, perfumes or aftershave on the area to be treated on the day of treatment

Do NOT wear contact lenses during treatment of the periorbital area
Your aesthetician will take all steps to ensure total comfort for your treatment. If at any point you feel discomfort, please inform them immediately.
Exposure
SPF 30+ sunblock is a must (apply daily and reapply during the day).
Avoid being outside, and when outside also use sunglasses and a hat.

Avoid direct sun exposure to the treated area for 2-3 weeks following the treatment.

Avoid exposing your treated skin to extremes of heat and cold.
Cleaning
Avoid hot showers.

Only wash the treated area with mild cleanser and water.
Topical/Oral
Do not use oral or topical anti-inflammatory (including Aloe Vera) medications, if you don't need to.
Clients who take regular prescription oral anti-inflammatory medication should continue to do so as necessary

Do not use oral or topical steroids, if you don't need to..

Do not apply ice packs after treatment (a cold water cloth can be applied for a few minutes)

Hydrate your skin for 4 days by drinking plenty of water (1.5-2 litters a day) and applying hydrating moisturiser twice a day (moisturising your skin will prolong the flaking progress).

Do not apply any concentrated Retinol/Vitamin A skincare for 2 weeks.
Activities
Avoid heated yoga, saunas, pools, spas and getting over heated for 48 hours following treatment.
Possible side effect after treatment
With certain skin types and in a small percentage of cases, pink dots may appear post treatment. These may darken and fade or fade without darkening in 1-2 weeks. It is completely normal, part of the regeneration process and the skin's response to the plasma irradiation.